PHOTO: SUPPLIED
"Why Drag Queens Make the Best Storytellers for My Toddler"
I've loved drag queens ever since I was a teen and first glimpsed Divine in John Waters' .
People often ask why I love drag queens so much and it simply boils down to the fact that they make me feel joy. Drag performers often aim to make you laugh or smile—and, of course, I'm always insanely inspired by the queens' hair, makeup, clothes and performance abilities.
I've attended drag queen events regularly through my entire adult life but, since my son was born last year that frequency has dropped greatly. So imagine my excitement when I first heard about Drag Queen Story Hour, at the Brooklyn Public Library!
Hosted by the Feminist Press, Drag Queen Story Hour revels in "the spirit of unfettered exploration of self that great books can prompt," and features classic tales read by drag queens.
"The story hour breaks down our most stifling ideas about gender while lifting up play, fierceness, and femininity for all," explains Jennifer Baumgardner, executive director and publisher of the Feminist Press.
For me, the story hour is a wonderful way to share something I love with my toddler. We've attended two events so far and anxiously await the next one. My son has had a wonderful time—and from what I've seen, the other children (and parents!) have been nothing but smiles.
To the kids, the storyteller is just a (very fabulous) lady reading books. And after the reading, they get time to do crafts and interact with the queens. If a child happen to notice the queen is a "man in a dress," they can ask questions.
It's such a great opportunity to expose children to something some people would perceive as "different"—and show them that being different is okay. If a man wants to wear a dress, it's okay to wear a dress.
I want my son to grow up knowing that no matter whom he loves or who he chooses to be, we will support him always. I hope to raise him to respect all people, no matter how they choose to live their lives. And I think enjoying events like this will hopefully set us on the right path for a lifetime full of love and acceptance.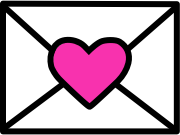 Sign up to receive
instant happy in your
mailbox every day.