PHOTO: GETTY
Jennifer Aniston Isn't on Instagram. She Might Be Onto Something
Even just five years ago, Instagram was an entirely different app.
Not only have there been endless and design changes, but it's being used in a much more sophisticated way.
There's increasing pressure to not only build up a following but to create that makes up a unified feed aesthetic.
Yeah, I felt super gross writing that sentence.
The vast majority of celebrities have jumped on the Instagram bandwagon (some celebrities have even been created on Instagram), but Jennifer Aniston has never succumbed.
On the first episode of Arianna Huffington's The Thrive Global Podcast, she shares her reasoning.
"For me, it's self-preservation. There's enough written about me out there and enough that's not true," she says.
"There's one school of thought, which is, 'Why don't you be on social media and really show who you really are?' And I don't need to…This is the one place I have that's really protected and is mine and is what my life is without a camera rolling or paparazzi or media exposure."
Of course, there's an element of privacy to consider when you're a celebrity, but even for regular humans, Aniston's point stands.
When we join social media, we slowly begin to sacrifice moments of reflection and observation that for the sake of our mental health, shouldn't be shared with anyone else.
But as Aniston acknowledges, the "FOMO" that comes along with avoiding social media can be overwhelming.
"I don't feel I'm missing out, but I do sometimes feel that I'm not keeping up or that things are happening at a speed at which I'm going to be left behind in the dark ages," she says.
Deleting Instagram isn't necessary, though—even going on a "digital cleanse" can be beneficial. Aniston herself has done many a digital detox. "It felt so liberating to not be tied to it," she raves.
New goal for the week?
H/t: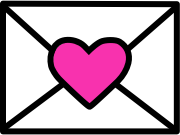 Sign up to receive
instant happy in your
mailbox every day.