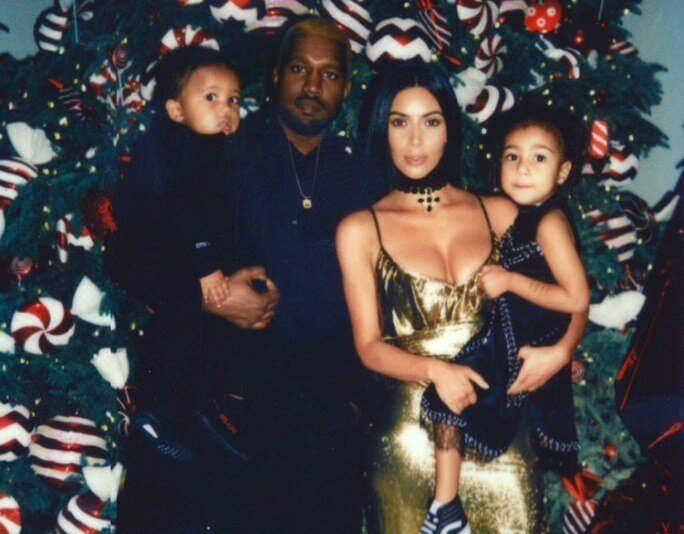 PHOTO:
Kim Kardashian and Kanye West's Family Photo Says More About Us Than Them
It's been a rough year for Kim Kardashian and Kanye West. What was looking to be their most successful year—Kardashian's app was killing it, her star power was somehow growing stronger and West released a new album and was touring around the country—is now a reminder of trauma, illness and hardship.
But they're sticking together and getting through it.
That's what this image, posted by West, 39, on Tuesday afternoon, conveyed.
Happy Holidays pic.twitter.com/fxLFQQWJG7

— KANYE WEST (@kanyewest)
A photo of himself, Kim, 36, daughter North, three, and son Saint, one.
They're at Kris Jenner's annual Christmas eve party, which saw the Kardashians wear lots of sequins, take many selfies and share every moment with their millions of fans.
It's a photo that came at a time when the couple are plagued by divorce rumors. "Sources" and "close family friends" are confirming daily to tabloids that a separation is imminent, but this photo quiets those rumors.
It's a simple picture—they aren't smiling, or even touching each other, really—but it says so much. It shows they're staying together, they're strong, they're ready for this year to be over and for a new one to begin.
We see Kim looking more like herself, wearing a gold dress and statement jewelry, which is the first time since October she's been pictured in public wearing something other than a hoodie. And we see the pair holding on to the two most important things in their lives, their kids.
But almost immediately, the negativity began.
looks like a prison visit

— WillieMcGeePoker (@DougLeePoker)
..his eyes. He looks so miserable 💔

— iluAminatti (@ilucifer6969)
Overwhelmingly, people are choosing to look at this photo as a sign something is off between the family. "They look miserable", "they're OBVIOUSLY about to divorce", "couldn't they have smiled for one photo?"
Hundreds of comments like these rolled in.
Never mind the fact they've been through very testing experiences in the last three months, nor that this is the first family photo they've shared since Kardashian's October robbery.
Besides, has everyone forgotten who these two are? When do they ever smile? Just look at their 2015 Christmas family photo.
Check out the over-the-top Christmas decorations at & 's home: https://t.co/WeOvfUY8Fq pic.twitter.com/ovZyFy5Mr7

— Preen.ph (@preenonline)
But once again, we expected them to be more. To smile. Because smiling is always the true indication of happiness, isn't it?
To me, this photo is typical Kim and Kanye. It's evidence they're getting back to normal. And it's a sign of hope that 2017 is going to be their year... and ours.
Welcome back, Kim Kardashian and Kanye West. We've missed you.