PHOTO: HBO
From Hannah's Mesh Tank to Jessa's Feathers, 'Girls' Most Iconic Looks
It's no secret that the style (and style evolution) of the characters on Girls is an important element of the show's overall message.
Jessa's outlandish dresses, Hannah's ill-fitting skirts, Shoshanna's crazy hair pieces, Marnie's structured jackets—they all bear significance to who these characters were and where they were going.
They are also what we'll remember about the show for a long time coming, now that it has finally come to an end. To that end, here are some of the most iconic looks from all six seasons of gloriously weird fashion on Girls:
Jessa's feather ensemble
Before we fully meet Jessa in season one, Marnie classifies her as the type of person to "show up in some blanket-y dress from a Grecian marketplace and be like, 'I can't remember where I got this.'"
Never has a character assessment proven so true, made evident by this feather ensemble that Jessa wears to a warehouse party in Brooklyn.
It is merely the beginning of the many outfits she'd wear throughout the show that literally no other human could get away with.
Marnie's uniform
Elijah accurately described this look as "a slutty Von Trapp child"—an aesthetic which up until this point I did not realize was needed in my life.
Hannah's mesh tank
Hannah gets a hold of this now-iconic article of clothing— owned by the Museum of Television and Radio—after spontaneously swapping shirts with a random man in a club.
When Marnie asks what on earth she's wearing, Hannah responds with the line that I now use each and every hump day: "It's a Wednesday night, baby, and I'm alive."
Hannah's bonkers lingerie
Hannah sported this puzzling strappy garment in an attempt to spice up her sex life with Adam.
Not only did she manage to get into the thing, but she did so while still wearing her gray cotton underwear. Hannah to a T.
Shoshanna's blue trench
For me, this coat marked the beginning of Shoshanna's breakdown and subsequent rebirth.
How an unemployed graduate affords Prada sunglasses is beyond me, but I digress.
Marnie's jazz brunch outfit
Oh, Marnie. That dangly hair piece looks just as ridiculous on you as a music career does.
Was that mean?
Every single thing Shoshanna wore in Japan
I think we can all agree that Japan is where Shoshanna had her best fashion moments: The intersection of bright colors and ridiculous accessories is where she truly thrives.
Jessa's stunning lipstick
I simply could not stop staring at this gorgeous matte red lip color that Jessa wears at multiple points in season six.
God bless New York Magazine's The Strategist for finally identifying the exact products used: MAC Retro Matte Liquid Lip color in Feels So Grand and Julie Hewitt's lip liner in Poppy.
If only we had the budget to go out and purchase every single item we loved from the show.
Sigh.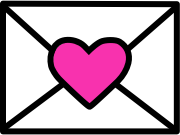 Sign up to receive
instant happy in your
mailbox every day.