PHOTO: INSTAGRAM /
A Real Life Bio-Dome: Inside This Family's Amazing Arctic Circle Home
Benjamin and Ingrid Hjertefølger and their four children live in a bubble.
Well, actually it's a geodesic dome, but you get the idea.
Located in the arctic circle on the island of Sandhornøya in northern Norway, the family of six's Nature House is an eco-friendly dream.
The three story, extremely green, cob house (cob is a natural building material made from soil, water, and usually straw) is protected from the elements by a geodesic dome.
The dome protects the house from the extreme arctic temperatures and high winds while also acting as a green house.
Ingrid tells Inhabitat, that it's impossible to grow food in the dome in the winter because there are three month without sun but the dome does allow them to grow food five months longer than they would be able to outside.
All of the home's grey and black water is used for fertilizing and watering the apples, apricots, cherries, cucumbers, grapes, herbs, kiwis, melons, plums, squash, and tomatoes they grow.
All food scraps are used as compost and all household items are biodegradable as everything ends up in their food.
Though there are things Ingrid tells Inhabitat she would change if she could start over on the design of the house now. ("The ideal thing would be double glass on the green house so that we could have a tropical garden and no dripping in the winter.") Overall she says the family is very happy with their home.
"The feeling we get as we walk into this house is something different from walking in to any other house," says Ingrid.
"The atmosphere is unique. The house has a calmness; I can almost hear the stillness," she continues. "It is hard to explain. But it would have been impossible getting this feeling from a house someone else has planned and built for us, or a house with corners and straight lines."
And that's just the outside!
Inside the home, is equally as breathtaking yet somehow familiar and comfortable.
As Ingrid puts it, "It's a cave, but it has light and air."
Turns out life in a bubble can be a great, great, thing.
For more information about the Hjertefølger's sustainable life check out their blog here.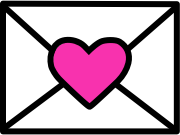 Sign up to receive
instant happy in your
mailbox every day.