PHOTO: GETTY
How Celebrities Are Spending the Holidays Giving Back
The holidays are a great time for realizing all the blessings we have in our lives and giving back to those less fortunate.
In that spirit, some of Hollywood's biggest and most fortunate stars are choosing to spend the holiday season giving back to their communities (or the global community).
With the gift of their time and money, these celebrities are highlighting organizations and charities that they feel deserve more recognition.
Katy Perry and Orlando Bloom
This week, Katy Perry and Orlando Bloom, dressed as Mrs. Claus and Santa, and visited Children's Hospital Los Angeles to spread some holiday cheer to the patients and their parents.
Perry shared a photo on with the caption:
"This week Santa and I got to spread some cheer and have a carol sing-a-long with some beautiful children at ! I love the music therapy program there... it lifts spirits and heals hearts. I know for me, music has always been healing. I hope everyone can give back this season in their own way. That's the greatest gift of all."
Neil Patrick Harris
Earlier this month, Neil Patrick Harris gave out gifts at a pop up event in New York to promote The Christmas Tree Promotion Board's campaign It's Christmas. Keep It Real.
According to a press release, the campaign aims to raise, "awareness of the benefits of a real tree and [support] our nation's tree farmers, importers and industry partners".
"They reached out to me, and I liked the initiative. I was under the assumption that having a real tree was somehow harmful to the environment, and yet the opposite is true... For trees in America, for every one that is cut down, farmers plant three more," Harris told Mashable during the event.
"And with the plastic artificial trees that are dumped in landfills, they're in there for a thousand years. So I didn't really think of it in that way. And I love it. I love the real tree idea. I love the holidays," he said. "With kids now, we're real big fans of cookies and fires and smells, and nothing says that more than a real tree, right?"
Reese Witherspoon
Every year, Reese Witherspoon and her family pick a charity to invest time and money in all year. The actress tells People that this year, she, husband Jim Toth, daughter Ava, 17, and sons Deacon, 13, and Tennessee, 4, are going with Girls Inc.
"I'm so moved by their after-school programs," Witherspoon said of the national non-profit that helps girls between the ages of 6-18 to feel empowered.
Witherspoon says she's already started visiting a lot of locations and her kids will be joining her in the new year, "We're going on a site visit in January, and then we go on site visits in Nashville and Dallas".
Lady Gaga
Earlier this month, The Today Show followed Lady Gaga as she visited the Ali Forney Center, a New York City homeless shelter for LGBTQ youth.
"I've been searching for ways to help myself, and I found that kindness is the best way," Gaga said as she arrived with clothing, makeup, and other gifts in tow.
To the LGBTQ's thank you for sharing your stories, trauma & pain with me & the world today. Your kindness is contagious. ❤️

— xoxo, Joanne (@ladygaga)
She also took the time to make sure the kids know they're not alone, and they can be anything. Something she knows from personal experience.
"I told the kids today, 'I suffer from PTSD'. I've never told anyone that before. So, here we are. But, the kindness that's been shown to me by doctors as well as my family, and my friends — it's really saved my life."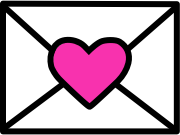 Sign up to receive
instant happy in your
mailbox every day.