PHOTO: GETTY
Hillary Clinton Is Wearing the Shoes Katy Perry Named After Her
This story was originally published on February 9, 2017, and updated on April 11, 2017.
Katy Perry is the first celebrity ever to create a fashion line.
Just kidding—but she very well may be the first star to name her products after her famous friends.
The singer announced her plans to launch her very own shoe line, telling People:
"For half my career, people have been asking me when I'm getting into fashion. It's always been simmering under the surface, but I wanted to do it the right way and be the real creative contributor. This is something that I've created from the bottom up."
Her move into fashion isn't all that surprising, considering the whimsical style choices she's made on stage and red carpets alike since the beginning of her career.
But what's different about her shoe line is the personal touch she's added to each item.
"I chose some of my favorite girlfriends and my female family members and named all the shoes after them. I tried to pair the shoes that best represented their personality. I didn't necessarily shape the shoe after them, but I decided to make the shoes more name specific in the end."
Hillary Clinton's shoe, for example, is called "The Hillary", and features a clear heel with golden stars floating in it—giving it a "pep in her step".
Stars of Girls, Lena Dunham and Allison Williams, also have their own shoes—"The Lena", a sequin-filled sneaker and "The A.W. Heel", a patent shoe with a purple gradient pump.
The brand features plenty of other quirky designs, such as this platform shoe with a cigar for a heel:
Or this strappy pair with a—Rubick's cube?—as a heel:
However, she's also created some surprisingly toned-down looks, like this classic gold pump.
The collection retails from anywhere between $59 and $299, and will be available online on February 16.
It's also pretty much exactly what we expected out of Perry—eclectic, fun, and bold.
"There are so many different vibes [in the line] because that's who I am, and I love so many different things. They all represent my personality and the many moods and characters I've displayed throughout my life and career."
We are thinking an appropriate title for the line could be "Everyday Objects as Heels".
Thoughts, Katy?
Apparently, Hillary is pretty happy with her namesake shoe, proven by a photo of her wearing it posted to Katy Perry's Instagram account.
Perry captioned the photo:
"⚡️POWER PUMP⚡️your way over to katyperrycollections.com for the last few hours of the spring 25% sale❗ is wearing (OMG I LOVE HER SO MUCH)"
We heartily agree with that last statement.
H/t: People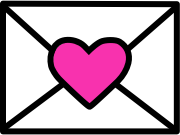 Sign up to receive
instant happy in your
mailbox every day.