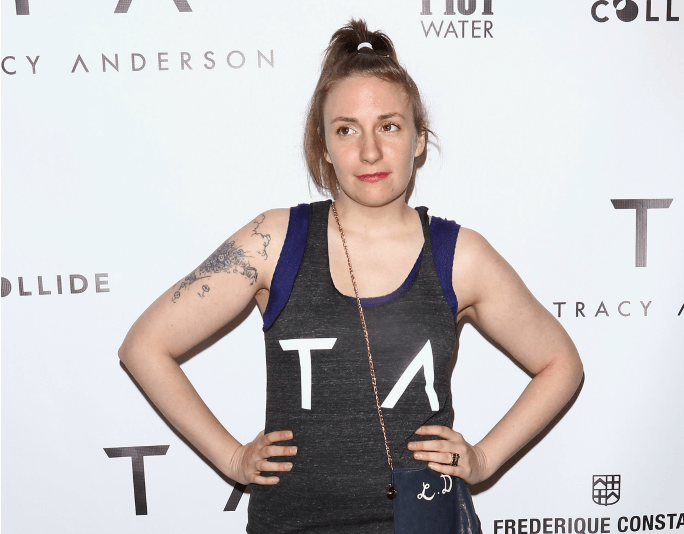 PHOTO: GETTY
Just Because Lena Dunham Exercises, Doesn't Mean She's Not "Body Positive"
Lena Dunham sparked outrage this week for something very confusing.
The actor/Girls creator attended an event this week for Tracy Anderson, a personal trainer who's been working with Dunham (and many other celebrities) for years.
At the event, which launched Anderson's new fitness studio in New York, press noticed Dunham's "weight loss". It quickly became the focus of anything she said or did for the rest of the night.
Lena Dunham looked happy and healthy, showing off her slimmed-down frame at the Tracy Anderson studio opening! https://t.co/N4QR0DHeL2 pic.twitter.com/Xu2In2uPk7

— EntertainmentTonight (@etnow)
Even though Dunham explicitly stated her training with Anderson wasn't about weight loss—she told reporters she works with Anderson to help combat the pain she feels from her endometriosis—it didn't matter. Articles immediately began to circulate that focused on how much weight Dunham had lost, comparing her body now to her body a year ago.
And if that wasn't bad enough, the public jumped on this shouty bandwagon too. Almost immediately, Dunham was accused of being a "hypocrite" for working out. She is a passionate voice in the body positive movement, and for some reason people began to feel that by losing weight, whether intentionally or not intentionally, she was turning her back on the movement.
She is a passionate voice in the body positive movement—and for some reason, some people felt that by losing weight, intentionally or not, she was turning her back on it.
Hey congratulations on losing weight, . the body positivity movement.

— Dark Conservative (@Dark_Conserve)
I guess doesn't really believe that all body types are acceptable. https://t.co/ywWvEL5mup

— Tomas Howie (@Tomas57)
And this is why we can't have nice things.
Refinery29 responded to the backlash in an article called 'People Need to Stop Talking About Lena Dunham's Weight', saying she can obviously still be a supporter of body positivity while wanting to get her own health in check. Dunham herself has shared and thanked
Dunham herself shared the piece and thanked Refinery29, adding her two cents in an Instagram post I still can't quite believe she had to write.
"I feel I've made it pretty clear over the years that I don't give even the tiniest of shits what anyone else feels about my body," she begins.
"I've gone on red carpets in couture as a size 14. I've done sex scenes days after surgery, mottled with scars. I've accepted that my body is an ever changing organism, not a fixed entity- what goes up must come down and vice versa. I smile just as wide no matter my current size because I'm proud of what this body has seen and done and represented. Chronic illness sufferer. Body-shaming vigilante. Sexual assault survivor. Raging hottie. Just like all of YOU.

"Right now I'm struggling to control my endometriosis through a healthy diet and exercise. So my weight loss isn't a triumph and it also isn't some sign I've finally given in to the voices of trolls. Because my body belongs to ME—at every phase, in every iteration, and whatever I'm doing with it, I'm not handing in my feminist card to anyone."
It's incredibly well said. But at the same time, it just makes me want to turn my phone off, pull a duvet over my head, and switch off from the world. Why? Because we're STILL seeing women being criticized for doing whatever they want with their body.
If Dunham exercises, great. She shouldn't need to defend her decision to do so or provide a lengthy explanation of why. It's her choice. And it's none of our business.
Taking care of yourself—for health reasons or weight reasons—doesn't mean you're "turning your back on the body positive movement."
Dunham has and will continue to be a strong voice of support among the masses when it comes to body positivity. From featuring the voices of women of all sizes on her website, Lenny Letter, to celebrating all bodies in her show, Girls, (where star Jemima Kirke said she found it amazing her post-birth body was portrayed as "the sexy one") Dunham's championing of body positivity isn't going anywhere.
It's just a shame she constantly feels forced into providing explanations for her personal choices. She's not the first "body positive" celebrity to encounter this pressure.
Look at Ashley Graham. She's the most body-positive person we can think of—regardless of the fact she appears in magazines photoshopped and documents her exercise routines on Instagram.
Does this mean she's going against the body positive movement? Of course it doesn't—despite irritating accusations to the contrary from "fans". She's simply making a choice about her body.
What about Gabourey Sidibe? The actor recently spoke about her decision to undergo weight loss surgery. She's now happier and healthier, and stands by her decision 100 percent. Is she an advocate for body positivity, even though she had weight loss surgery? Of
Is she an advocate for body positivity, even though she had weight loss surgery? Of course she is. No question.
There's Chrissy Metz, star of This Is Us, who came under fire earlier this year after it was revealed there was a weight loss clause written into her contract on the hit show. She had to defend the network's decision, because she too wanted to lose weight. There wasn't an ulterior message for overweight viewers. It was simply a personal decision.
Then there's Mindy Kaling. The actor/comedian has talked about the frustration of the "real body" label, and being reduced to a pin-up for "alternative" beauty—or even worse, "bravery".
"I am the recipient of a lot of backhanded compliments about it," she explained to Jimmy Kimmel in 2014.
"People are like, 'It's so nice that Mindy Kaling doesn't feel she needs to subscribe to the ideals of beauty that other people do.' And I'm like, 'I do subscribe!' They're like, 'It's so refreshing that Mindy feels comfortable to let herself go and be a fat sea monster.' By the way, I like, run and work out. It takes a lot of effort to look like a normal/chubby woman."
We could go on forever. But we shouldn't have to. Body positivity has nothing to do with being a certain size—or adhering or not to "traditional beauty" standards. It's about your own relationship to yourself.
Whether you exercise for your health, for weight loss or don't workout at all (ahem, me), you can still love and respect your body. And you don't have anything to prove to anyone who wants to tell you otherwise.