Run Don't Walk: Cult Brand Glossier Just Released a New 'Boy Brow' Pomade
Hold onto your seats. And your wallet.
Glossier is the ultimate cool-girl beauty brand, and their latest release is possibly one of their most exciting yet: clear Boy Brow.
Boy Brow, Glossier's "all-in-one brow fluffer, filler, and shaper" is their best-selling product, and has gained massive cult following behind it.
Their website says:
"We're inspired by healthy, face-framing brows and consider brow grooming the last crucial step to heading out into the world: brush your teeth, brush your brows, and then maybe brush your hair."
Previously, the Boy Brow pomade came in three shades: blonde, brown, and black. But now, the brand is offering it in clear, which "gives you the same soft, conditioning hold minus the pigment".
Perfect for those days when you don't feel like putting on any makeup, but still want to look somewhat put together.
Like every woman on the planet, my relationship with my eyebrows is long and storied.
My Italian heritage results in a genetically induced unibrow that I am just recently learning how to manage. I fell victim to the over-plucking trend of the early '00s. I once had a reaction to eyebrow wax that caused my entire forehead to swell to the point where you couldn't recognize me.
But since discovering Boy Brow, I finally feel at peace with my brows. It fills them in perfectly (but never makes them look overdone), and keeps crazy brow hairs in place all day long.
I am willing to admit that I have fully hopped on the Boy Brow bandwagon, and I haven't looked back since.
So a new version of it, to me, is just a double bonus.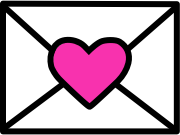 Sign up to receive
instant happy in your
mailbox every day.